What is the ideal color for a bedroom?
The choice of color for a bedroom can sometimes seem trivial, but in reality, it is not at all! The decor and ambiance of your sleeping room affect your sleep and your state of mind. Certain arts, such as feng shui, have developed very precise rules on the colors of the different rooms for a healthy and balanced home. The ideal color for your home also depends on your personality. In this article, we will focus on the 5 recommended colors for a bedroom and we will give you some general indications.
The perfect colors for a good night's sleep
We often underestimate the impact that the color of a room and in particular a room can have on our moods. Yet scientific studies have shown that they have a real influence on us on a daily basis, even if we do not really realize it.
So depending on your personality and the emotions you are looking for in your room, we advise you to choose one of these ideal colors. Note, however, that regardless of the color you choose, it is not recommended to start with gaudy. Prefer neutral and natural tones.
Nature and zen atmosphere: Green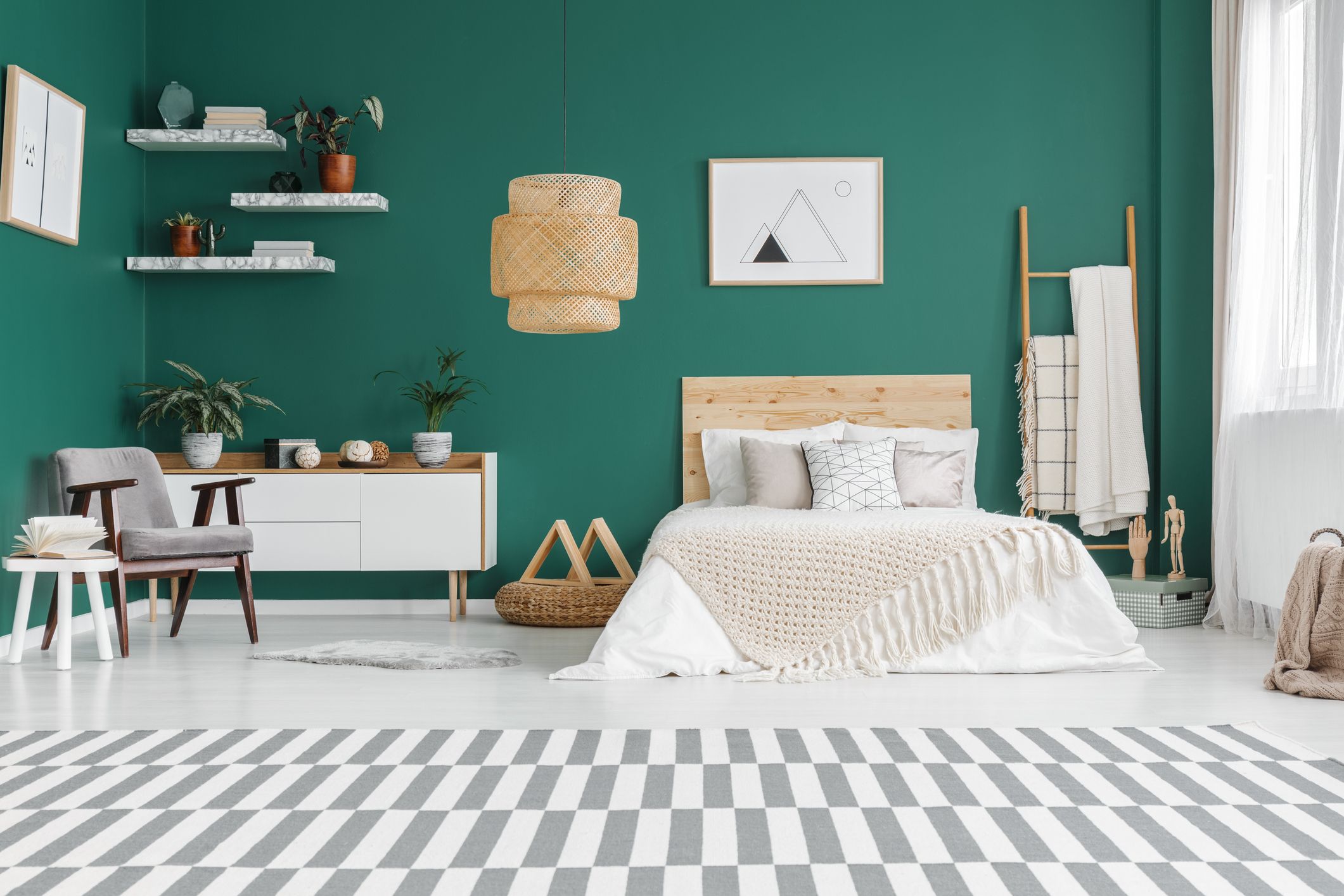 So-called cool colors, such as green, have the characteristic of lowering blood pressure and calming the pulse. If you are a nature lover, this color will suit you perfectly as long as it is associated with it. Your room will be reassuring and will allow you to recharge your batteries and be creative. Prefer soft paint tones, such as almond green, sea green or sage green.
If you are not going to repaint your room, but only redo the decoration of a few pieces of furniture, then you will have to opt for a little darker greens such as pine green or chrome green. Green goes very well with a wide variety of decorations, so it will be easy to make the transformation.
Appeasement and modernism: Blue
Blue is, just like green, a cool color, so it also has the ability to lower blood pressure. It's a calming, calming color that pairs perfectly with what one might look for in a bedroom. We advise you to use blue with a modern or Scandinavian decoration because it does not go well with all styles. Choose a cloud blue, a Prussian blue, a midnight blue, a pale blue or a sky blue, it is up to you to decide according to your tastes and the lighting of your room. It is easy to escape with this color, between sea and sky, you can let your imagination run wild.
Harmony and romanticism: Mauve
This color has been proven to be able to soothe the brain and slow down the metabolism. Elegant, this rather feminine color brings charm and harmony to your bedroom. It is a color that is rarely found in nature, so it appeals to people looking for originality.
Go for a mauve or a deep purple or even a lilac. Know how to use it sparingly, because if the room is overcrowded it could on the contrary disrupt your sleep. If you go for a dark tone, paint only one wall or two at most, otherwise, you might have the visual impression that your room has shrunk.
Serenity and luminosity: White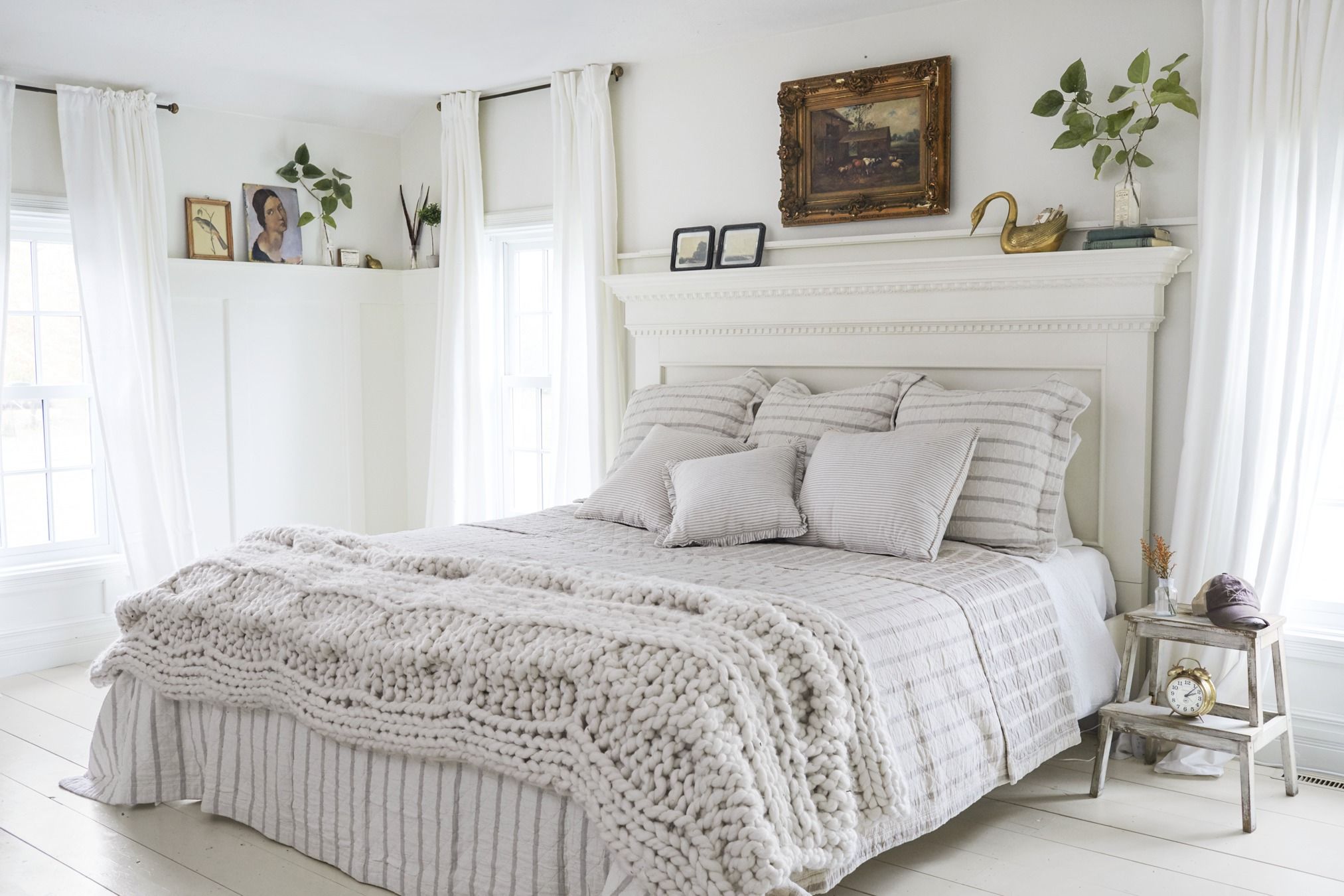 If your bedroom is small, this is the perfect color! White helps give the visual impression of a larger space. It is a neutral color, which tends to appeal to everyone and will bring freshness to your room.
White is uncluttered which can become a disadvantage if you use it in excess, as it could give an impersonal impression. To avoid this, do not hesitate to combine off-white or cream-white walls with furniture or accessories in pastel colors or not very garish natural colors like brown.
Delicacy and tenderness: Pink
While it is true that it is an extremely feminine color, pink is increasingly accepted by men. It is a soft color that carries characteristics such as compassion, kindness, and romance. A pale pink or a powder pink will be ideal for a young girl's room, for example.
Avoid at all costs too bright tones of this color such as fuchsia which would not be conducive to rest. In a master bedroom, combine it with shades of gray or creamy white to create a "cocoon of love" atmosphere.
Whichever color you choose, preferably apply the rule of three and distribute the tones as follows: 80% for the dominant color, 15% for the second color and 5% for the last.