8 Important Tips to Bring the Boho Style Into Your Own Four Walls
Cozy, playful, unusual, natural: the boho style has established itself as a living trend as a countermovement to clean, minimalist furnishings. We show everything about bohemian chic and how to best implement it here.
We automatically associate boho with hippie flair, Bali vibes and playful accessories. But where does the term actually come from? In fact, "Boho" actually stands for "Bohemian" or "Bohème" and means something like "unconventional". Originally, the term did not only describe a style but was coined in the middle of the 19th century by a population group consisting of intellectuals, artists and poets. In contrast to the bourgeoisie, the group formed in order to live out their free-spirited, artistic and unconventional lifestyle.
This was not only expressed in fashion, but also in interior design. Artistic residential communities were created in which wild patterns, unusual mixes of styles, bright and bold colors and creative designs were played with. True to the motto: as diverse and unusual as possible.
The style was reinterpreted in the 1970s as part of the hippie movement. After that, she expressed herself in fashion – we remember Sienna Miller in 2004 with a fur jacket, studded girdle and sailor's hat.
Soon afterward, boho-chic established itself as an interior trend – and today it is hard to imagine life without it.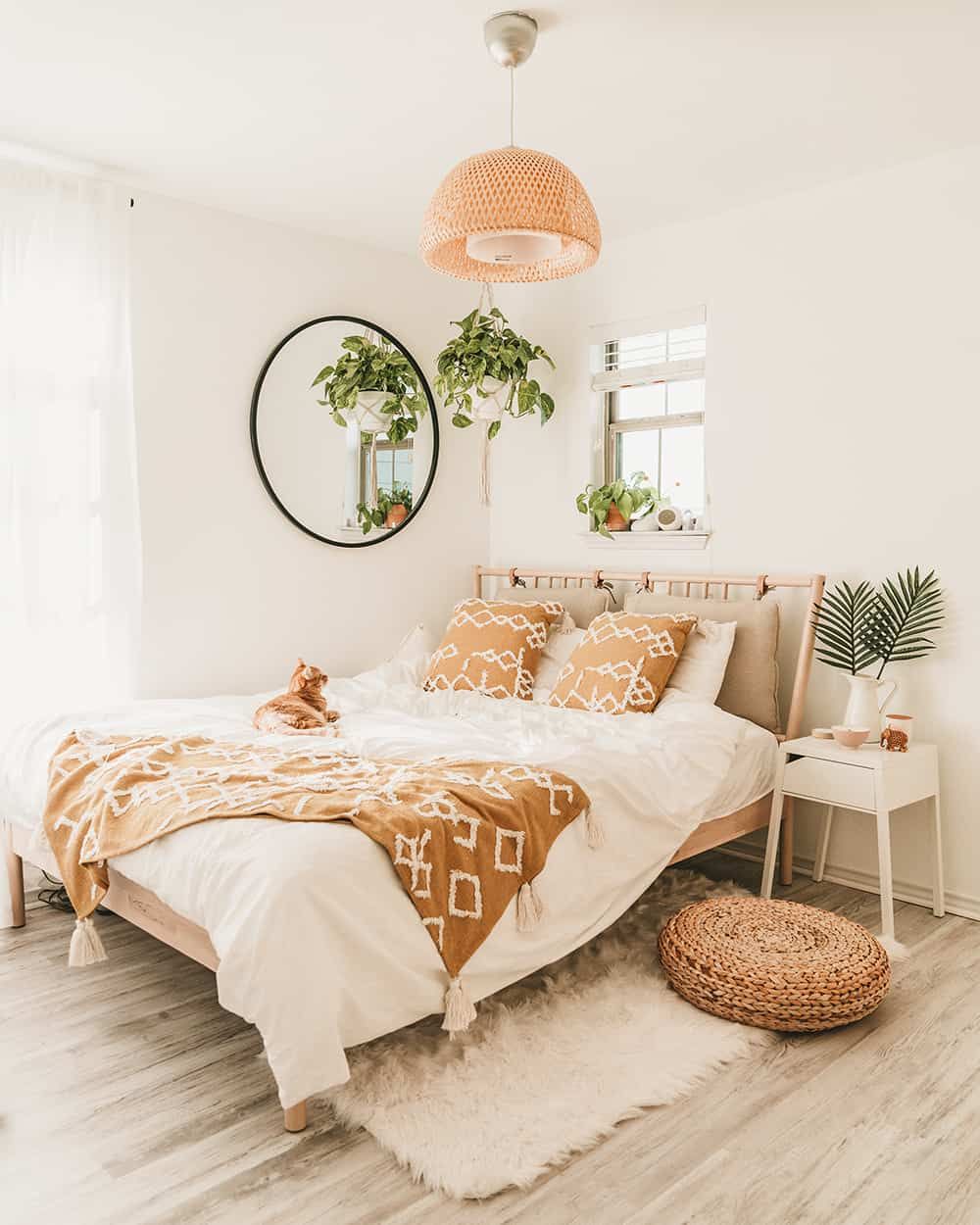 8 Tips to Incorporate the Boho-Chic Style Into the Home
But how do you implement the boho vibes in your own home? We have put together eight interior tips that give the apartment a hippie flair:
1. There are no rules
That's right – the perfect boho look is still one thing above all: unconventional! Almost any different style can be thrown together. The mix is ​​what makes the look exciting.
By the way, that's what makes the boho trend so practical. Because it can be easily combined with almost any furnishing style without having to turn the whole apartment upside down.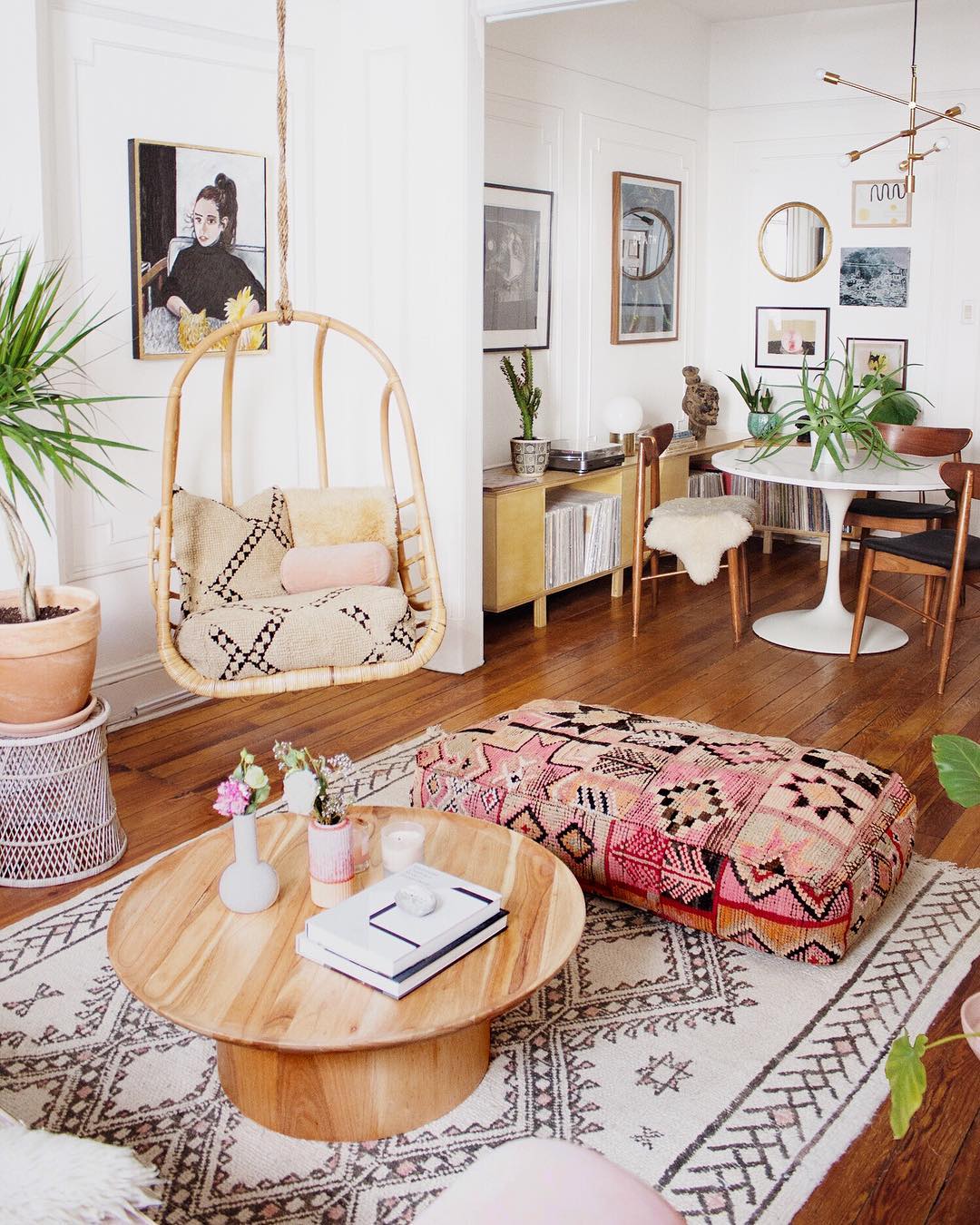 Country-style or vintage-style furnishings go particularly well with boho chic. Then it only takes a few tricks to integrate the trend. By the way, boho chic is also perfect for breathing a little more coziness into Scandinavian living dreams and breaking with minimalist furnishings.
No rules, so do what you want? Yes and no, because there are still some core elements that should not be missing in any boho apartment:
2. Color and pattern mix
In the Boho style, colors can be played with, as long as earthy tones remain the basis of the interior. This is how the look is coherent.
The color guide for harmony in the boho living style: Neutral colors such as beige, white, brown or olive form the basic tones and are best complemented with splashes of color in a burgundy, mustard yellow or turquoise blue.
Another eye-catcher that immediately brings the boho look into the apartment is a colorful carpet with oriental patterns. With boho-chic, colorful patterns can also adorn textiles such as decorative pillows, blankets or curtains. White walls can be balanced out, for example, with a curtain with an ethnic pattern – this immediately creates a cozy atmosphere and excitement.
3. Plants
An urban jungle is an inseparable part of boho chic furnishings. The rule here is: more is more! The green roommates breathe life into the home. And: You will be even more beautiful with stylish planters! How about, for example, matching the boho decoration with a macrame hanging basket or a planter in ethnic style?
Extra tip: The style is best complemented by tropical plants such as succulents or cacti. Hanging plants like ivy do particularly well in hanging baskets. If you don't have a green thumb, you bravely reach for dried flowers – pampas grass is an inseparable part of the bohemian style.
4. Natural materials
And not only in terms of decoration but also in terms of furniture. Woven decorative elements, for example, a lamp made of rattan or decorative baskets and lanterns made of raffia, go perfectly with the furnishing style.
Textiles are a must (preferably patchwork, macrame or batik) and then preferably made of linen or cotton. Natural materials should also be used for furniture – a chair made of rattan should not be missing here.
The material of choice? Classic boho furniture is made of raffia, rattan or wood. Furniture in soft and flowing shapes looks more fitting than angular and straight-lined objects. Comfort and a holiday feeling at the same time, for example, create hammocks or hanging chairs.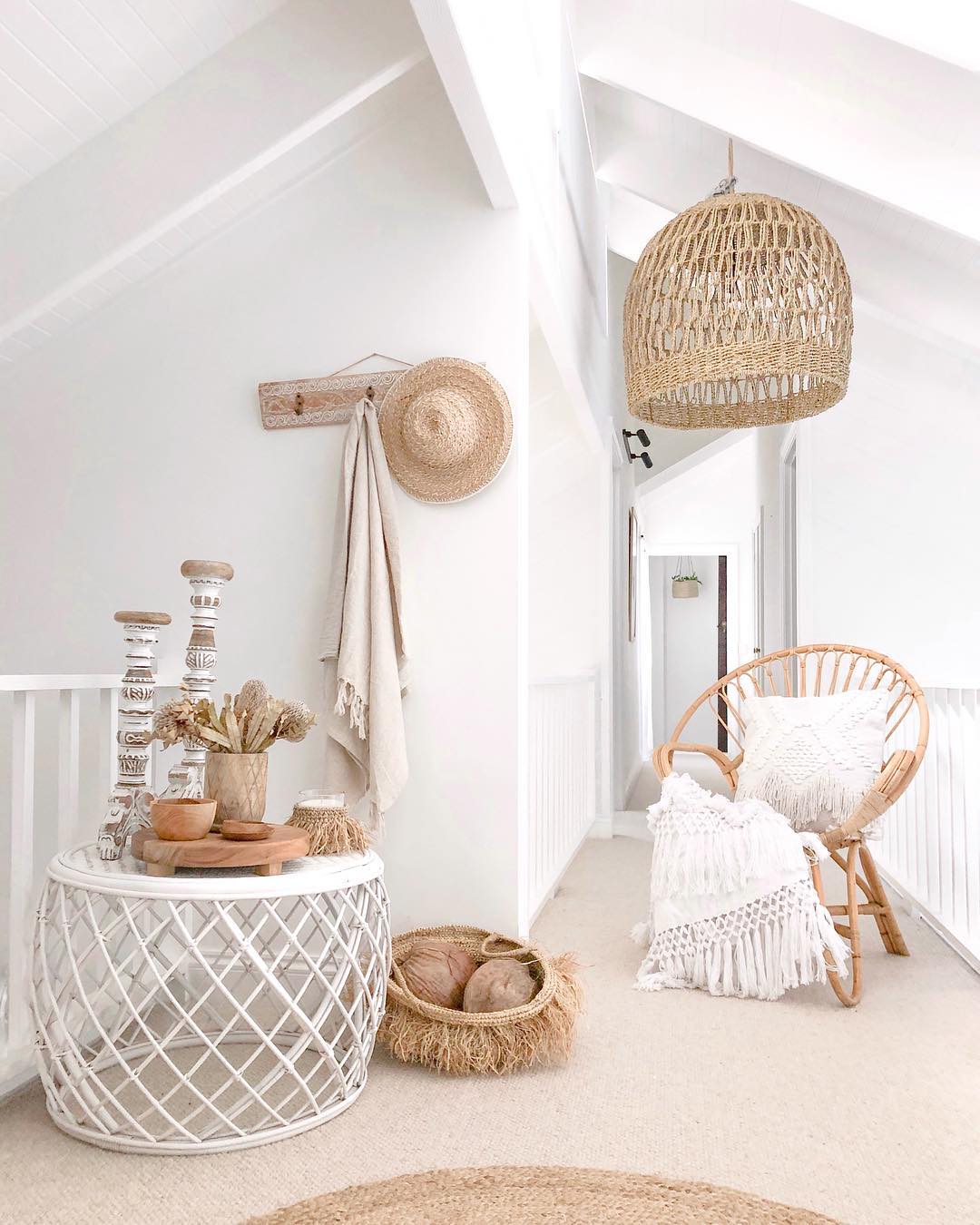 5. Fringes, fringes, fringes
Whether on the decorative pillow or on the macrame wall hanging – playful fringes and tassels are a must-have when decorating boho chic. The fringe look was adopted directly from fashion (which hippie outfit can do without fringe details?) And can now be found on home textiles such as carpets and pillows as well as on furniture.
6. Old meets new
The nice thing about boho chic: Vintage elements such as old rocking chairs, rustic wooden chests or antique glass showcases come back to life in a completely new way. Because retro furniture is simply combined with new home accessories. This not only makes the living style look exciting and individual but is also super sustainable.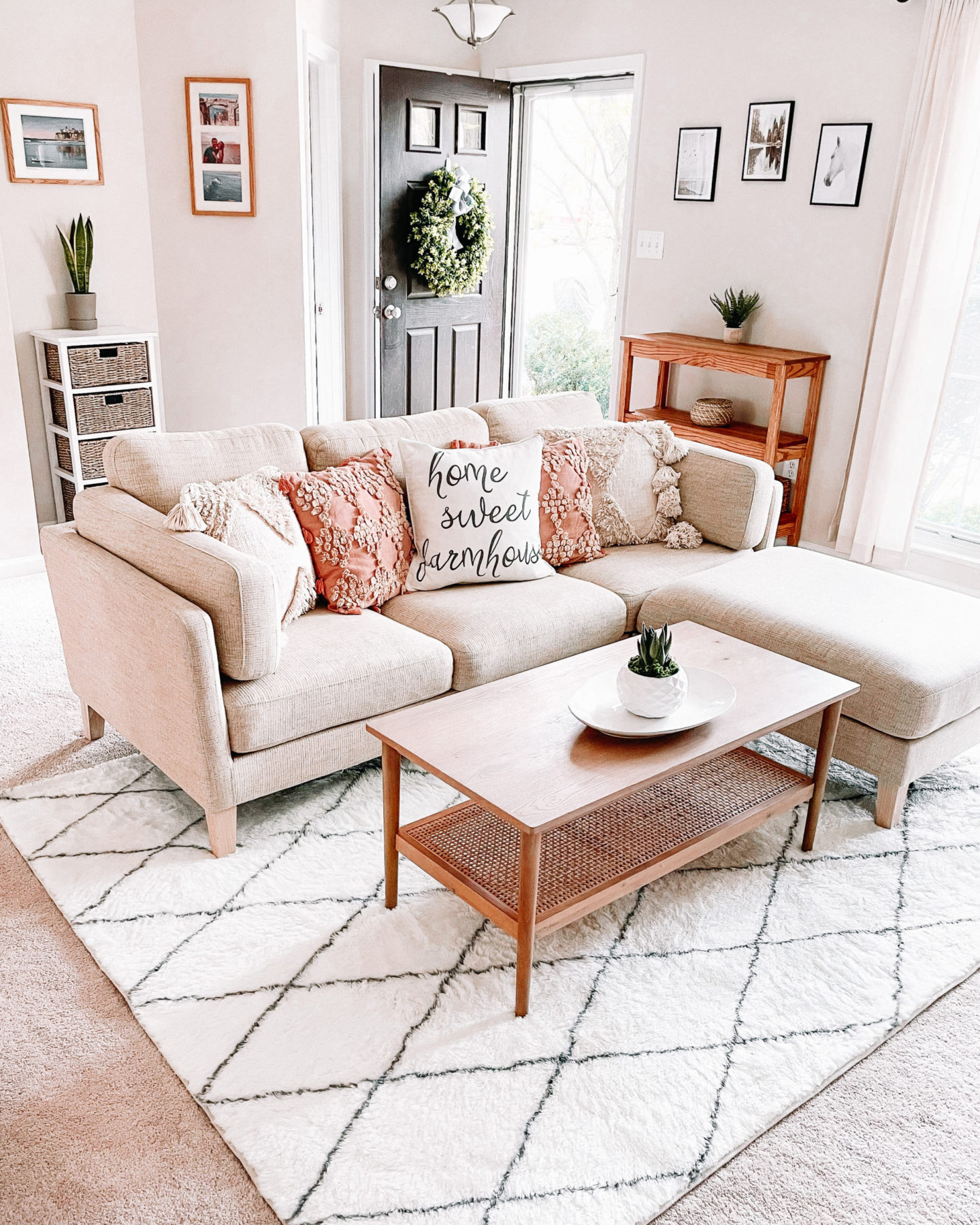 Souvenirs from vacation are also ideal – the brass lamp from Morocco, the rattan lantern from Bali or the tapestry from Egypt are a perfect match.
7. Give the boho interior a noble touch
The hippie style stands for coolness and nonchalance, but the furnishings can also be a bit classy, ​​right? To give the boho-chic a glamorous update, accents and accessories in gold are particularly suitable. Whether vases, decorative objects, or candlesticks – accessories with gold accents always look elegant and take furnishings to a new level. After all, a mix of styles of shimmering living accessories and natural materials is an inseparable part of the Boho feel.
8. Create comfort
In contrast to minimalist furnishings, boho-chic can't be nice enough. This can best be implemented when choosing the furniture. Seating elements made of comfortable materials are important, for example, a sofa made of velvet or soft leather.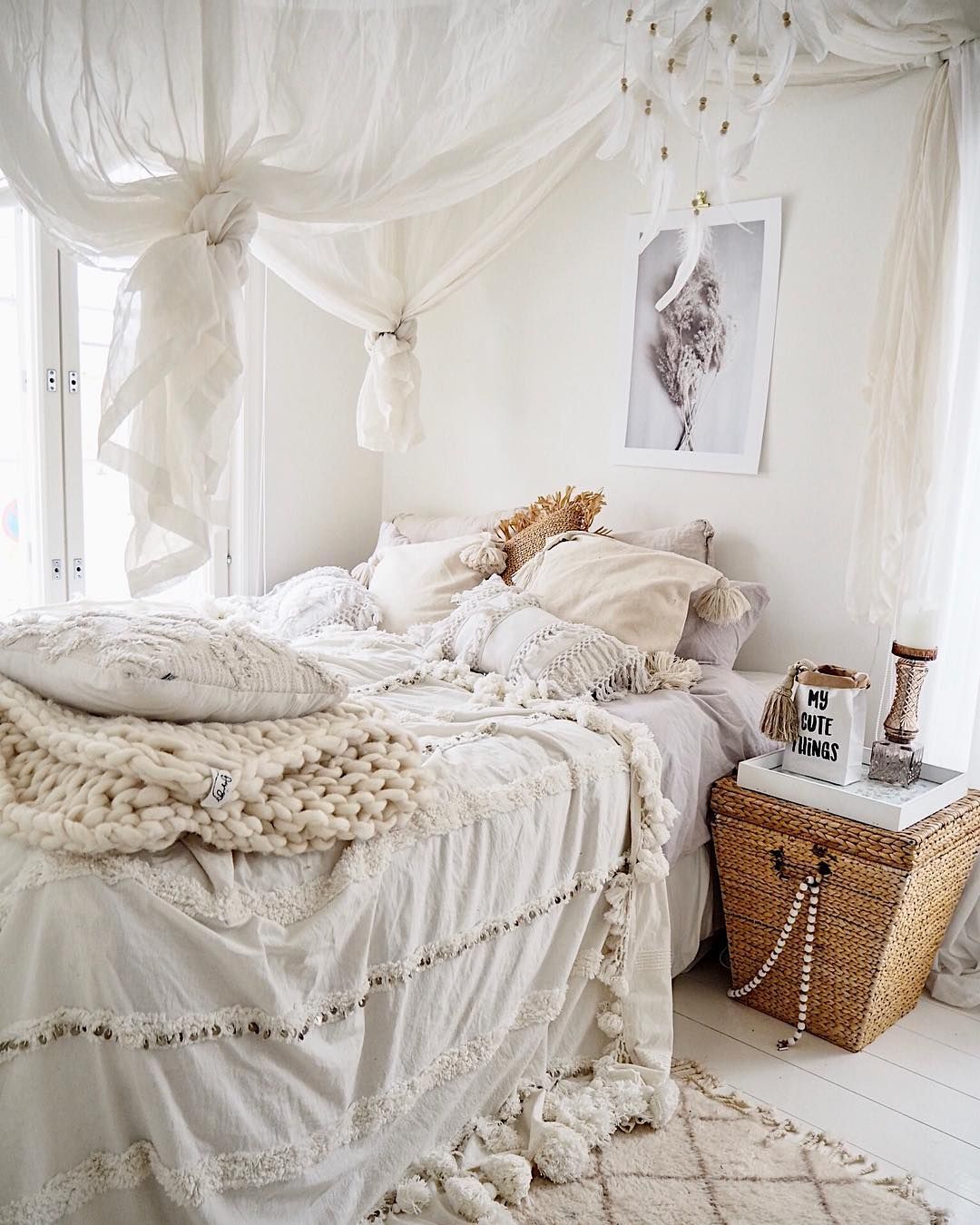 The look is completed by umpteen decorative pillows in bright colors and wild patterns on the bed or sofa. And don't forget lanterns, candles and fairy lights.