Make a Success of Your Bohemian Christmas Decoration
What could be better than to surround yourself with beautiful things for the end of the year celebrations? To instill a warm and friendly atmosphere at home, here are some decoration ideas for a bohemian Christmas to reproduce without hesitation. Romantic, nomadic or folksy, these decorations transport you to a magical and enchanted universe.
An advent calendar
What would a Christmas party be without the famous Advent calendar?
Made in a bohemian and Scandinavian style, it can be made yourself using pockets, branches and with small decorations.
They hang perfectly on a metal ring  to become a pretty dream catcher.
Simple to achieve and inexpensive, this idea will undoubtedly be a sensation in an interior.
Another interesting option: The Advent calendar to personalize, an idea that will not fail to surprise the little ones. Why not include 24 surprise gifts in accordance with their tastes and expectations? The challenge would be to limit the gifts to one per day.
Perfectly staged candles
Romantic and bohemian, the candles make it possible to multiply the light sources while bathing the room in an atmosphere imbued with charm and poetry. Combined with plants, they allow to breathe a natural, intimate and authentic atmosphere, for a creative and original centerpiece.
Looking for a better staging?
It is also possible to make yourself a Christmas candle holder, with a simple and refined style, which will bring a  touch of elegance to its decoration. Nothing could be easier to do this. Take a glass bottle or vase, a fir branch and a candle. Multiply Christmas candles to nicely decorate a festive table.
An adorable seasonal shelf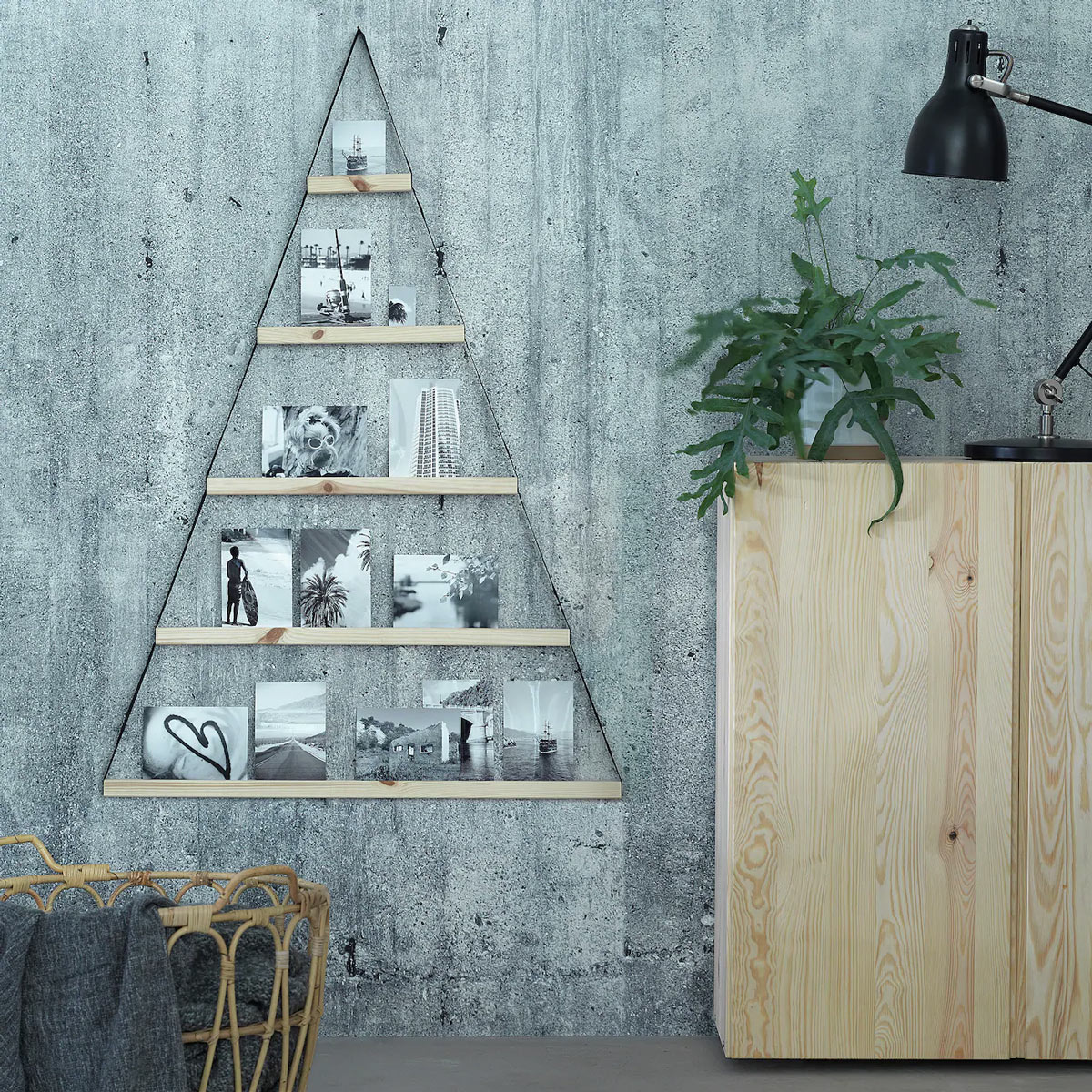 A bohemian decoration particularly likes simple, fine and discreet elements such as a minimalist shelf or pendant.
This involves drilling a hole at both ends of a wooden cleat and inserting a rope into it;
Decorate the small furniture with a few branches of conifers and eucalyptus. An asymmetrical decoration is ideal for nicely highlighting the accessories related to the theme.
A centerpiece with tree branches
To make a bohemian and 100% natural Christmas decoration, why not recycle the tree branches collected in the garden or during a walk in the forest? They can be simply tied together with a wooden log as a base. They will serve as a DIY candle holder or simply as a table decoration. It is possible to make several different sizes for specific use in other rooms of the house.
Christmas stars with fir branches
Easily modular, the fir branches allow you to make adorable Christmas stars. Original, warm and economical, these homemade decorations are sure to make an impact in any interior. For an incomparable result, it is advisable to start with simple and discreet creations. Use a few fir branches, nylon thread and pieces of wire for resolutely natural Christmas decorations. They are perfect for decorating windows or walls. Do not hesitate to play with the sizes for a more graphic visual. Something to amaze guests and visitors during the holidays!
Bohemian place brands
Place card labels: here is an original way to indicate the place of each guest with class! The guests will certainly be moved by these little touches. Details that will make all the difference. Here are some ideas for Christmas place cards to copy:
A fir branch and a few popcorns are enough to make an adorable place card that is as surprising as it is original.
It is also possible to divert figurines by repainting them to make them one of the original Christmas place cards.
Christmas baubles place  cards
In the same way, do not hesitate to divert the Christmas balls by writing the first names of the guests while decorating them with a few fir branches.
Of  calligraphy placecard
Lettering is also a great idea to indicate guest seating. Just write the first names on simple paper doilies.
Christmas decorating ideas with pine cones
Nothing could be nicer than going to pick up pine cones in the forest as Christmas approaches. Precisely, they allow you to concoct adorable bohemian and natural DIY decorations:
You just have to place a few branches of holly decorated with beautiful pine cones around a candle. The result: an adorable centerpiece in just a few minutes.
An adorable Christmas garland with some pine cones and ribbon. To try in a hurry!
Carefully covered in silver, gold or copper paints, the pine cones cluster together to bring out a sparkling Christmas wreath.
Wreath of flowers and pine cones
The variant of the Christmas wreath, this one reveals more minimalist and refined. To achieve it, combine a golden pine cone with other natural elements such as dried flowers.