Decoration and Planning Advice to Create an Industrial Loft
Industrial lofts are an increasing trend, American cinema has contributed to making these styles of apartments well coveted and sought after, especially in large cities.
Have you just bought an apartment and want to transform it into an industrial loft? In this article, discover our tips for successful decoration and furnishings, as well as the mistakes you shouldn't make. 
Our advice for fitting out your industrial loft
Open spaces
Keep in mind that the industrial style comes from old factories in some major cities in the United States. Therefore, we need large spaces not only in-depth but also at room height.
Avoid partitions, doors and closed spaces as much as possible. Of course, that doesn't mean that you have to mix all the pieces of life into one.
Play with materials and volumes to obtain your bedrooms, bathrooms, office, without breaking the volume. For this, do not hesitate to use glass partitions or a mezzanine.
Opt for raw finishes and solid materials
The industrial style originally responds to simple production needs, but not aesthetics. The constructions were therefore made with sturdy materials, but not necessarily very elaborate for the ideal of beauty of the time. By adapting it to homes, we have been able to highlight these materials for what they are and make them decorative elements in their own right. No need to plan elegant finishes for your future loft. It is better to leave the building materials as visible as possible.
Do not hide brick walls, wooden beams, waxed concrete floors, metal framing or rough parquet. On the contrary, highlight them!
If you do not have these kinds of elements accessible, then you can use wallpaper or PVC flooring with patterns reminiscent of these materials. The furnishings must meet the same principle, favor sturdy materials such as raw wood, zinc, steel.
Choose functional, but vintage furniture
In addition to the raw materials, the industrial style is characterized by primarily functional objects and furniture. Avoid frills, every piece of furniture should have a practical use. Prefer large furniture, noticeably sturdy and without excessive decorations. Combine leather and salvage.
Do not be afraid of large wooden tables, the Scandinavian sideboard, industrial style lockers, a wrought iron interior screen or even metal shelves. Do not hesitate to hunt for old objects or furniture at the second-hand dealer, they will perfectly decorate your industrial loft. 
Showcase lighting
In the old factories, lighting was important for workers to be able to produce. For a loft, we find this in the form of suspended lights.
A few metal suspensions above your worktop in the kitchen will indeed be certain, put them in pairs to reproduce the factory effect rather than alone. You can also use floor lamps for your living room.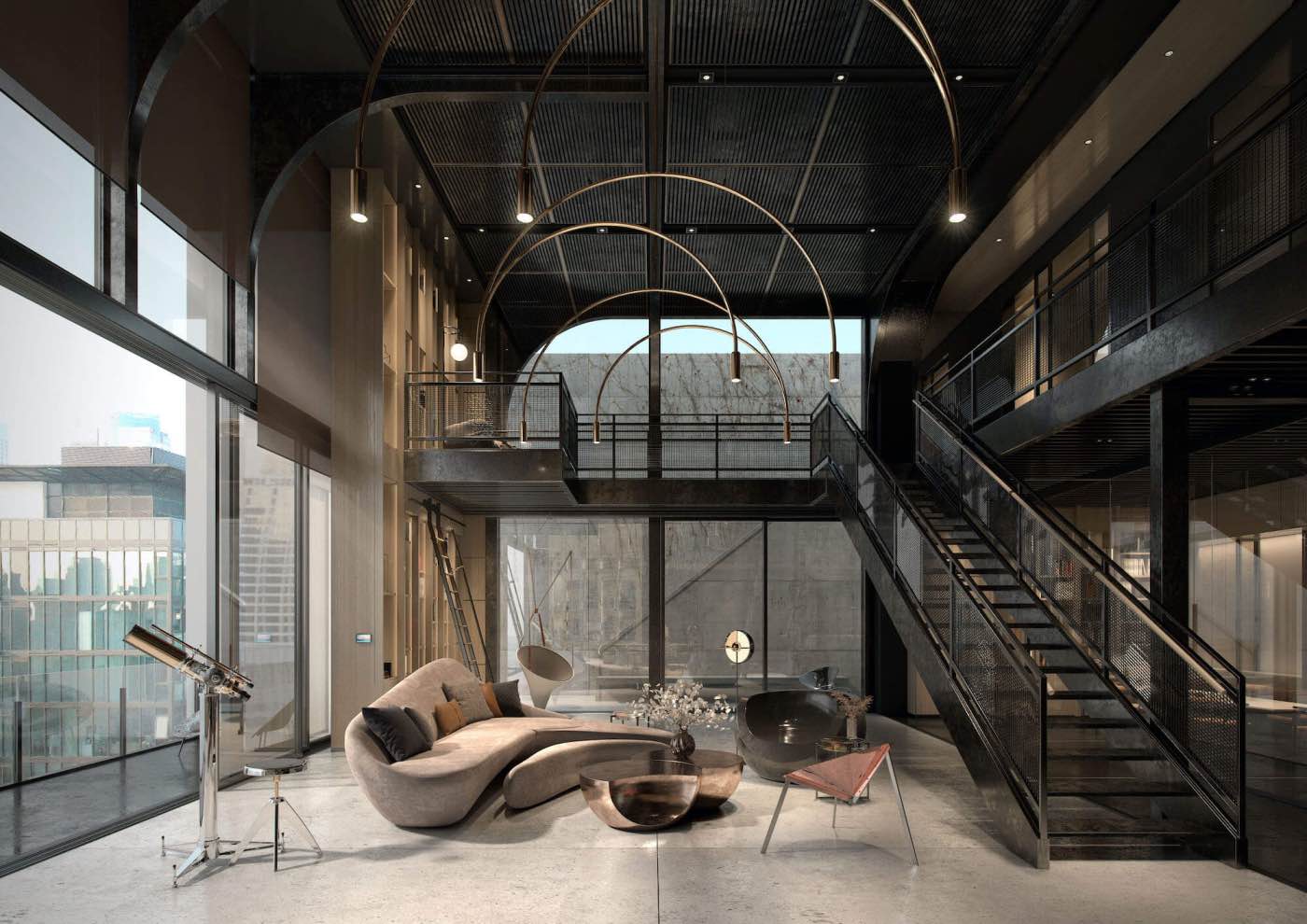 Harmonized colors
Colors are very important in the industrial style, as they work together to recreate the ambiance of factories. Generally, one avoids the loud colors in too large a quantity.
It's best to look for colors in the tones of the raw materials we mentioned earlier, so go for black, dark brown, metallic gray, pops of brick red and coppery.
Break the monotony by placing a few objects in brighter colors, for example, you can have a blue industrial locker, a yellow chair or orange cushions. 
The mistakes to avoid for a successful apartment makeover
It is not easy to succeed in its industrial style decoration without going overboard or on the contrary ending up with a large room that gives the impression of being empty or dull.
Here are some mistakes you should avoid making at all costs to succeed.
Don't overdo the brick
While it is certain that brick is one of the main materials of the industrial style, it should not be abused. Avoid having a room with entirely brick walls, a single wall will suffice to create the desired effect. 
Coming out of dull tones
The colors of the industrial style are mainly dull but do not hesitate to put some elements in warmer and vivid colors in order to break the monotony. For this, you can use a few colorful objects that will give life to your spaces without spoiling your industrial decoration. 
Omit the verticality of space
Lofts are generally characterized by their ceiling height. To realize your space planning and decoration, you must take this into account. Install mezzanines, make platforms or openings if possible.
Otherwise, occupy the height in decorations or storage spaces. Do not hesitate to install high bookcases, shelves or tables over the entire height of your room.
Have a single open space
While it is true that industrial lofts are often not very partitioned, this should not become a nuisance in your daily life either. You can obviously create partitioned spaces that allow you the privacy you need.
For this you can use different elements that cut the space without partitioning. This is the case, for example, with Japanese panels, curtains of greenery or even furniture large enough to give a little privacy. 
Camouflage the structure 
One of the key elements of the industrial style is to show the origin of the buildings. Thus, you must not hide the possible visible beams or other elements of the structure that testify to the construction. 
Very fashionable in recent years, the industrial style is not only pretty, but it is also pleasant to live in and a source of inspiration. If like many French people at the moment, you are telecommuting, you will undoubtedly be more at your ease in a large, open and bright space than in an office fitted out in a guest room or other. It allows more conviviality and adapts just as well to live alone, with family as in a shared flat.