To gain additional space in a home, fitting out the attic seems to be the best solution. Given that this is a relatively ambitious project, several trades must intervene. This is why the implementation of a development plan in 2D and 3D is essential. This article presents you with some design ideas to transform your attic into a real living room.
Initiate your project by developing an attic layout plan
To fit out the attic, certain important points should be taken into account: ceiling height, insulation, ventilation and heating, lighting, etc. The development of an attic layout plan is essential because it allows you to visualize the final result. . The plan must contain the elements that will make up the structure of the renovated attic:
Access to the attic
Roof windows
Water inlet and outlet
Washbasin
Shower cabin
Electrical circuit
Heating system
Location of radiators
The realization of a plan of the attic is essential for the success of the project. However, it is not for everyone. If you plan to insulate and renovate your attic, do not hesitate to turn to a professional to create an attic layout plan that will suit your desires and that will take into account all the technical constraints of your home. This will not only help you design your project but will also indicate any declarations, requests or administrative formalities to be completed before starting the work. You can also entrust him with monitoring the work, from start to finish. In this way, you will free up valuable time that you can devote to other tasks.
Arrange a parental suite in the attic
We can transform the attic and create a beautiful room dedicated to parents. Away from the family heckling, it will be a real space reserved for your privacy. The large attic is ideal for the construction of a master suite which will be equipped with a bathroom and a dressing room. The configurations of this space under the roof are perfect to accommodate storage, a bathtub, benches and a king-size bed if possible.
For the master suite, there are many styles to choose from to suit your taste. You can thus arrange your suite as a setting, opt for a modern, rustic and chic suite, with breathtaking views of the surroundings, romantic, pop or immaculate. The configuration of the attic and the usable space will be decisive in choosing the style and accessories to add to the master bedroom.
Build a child's bedroom under the eaves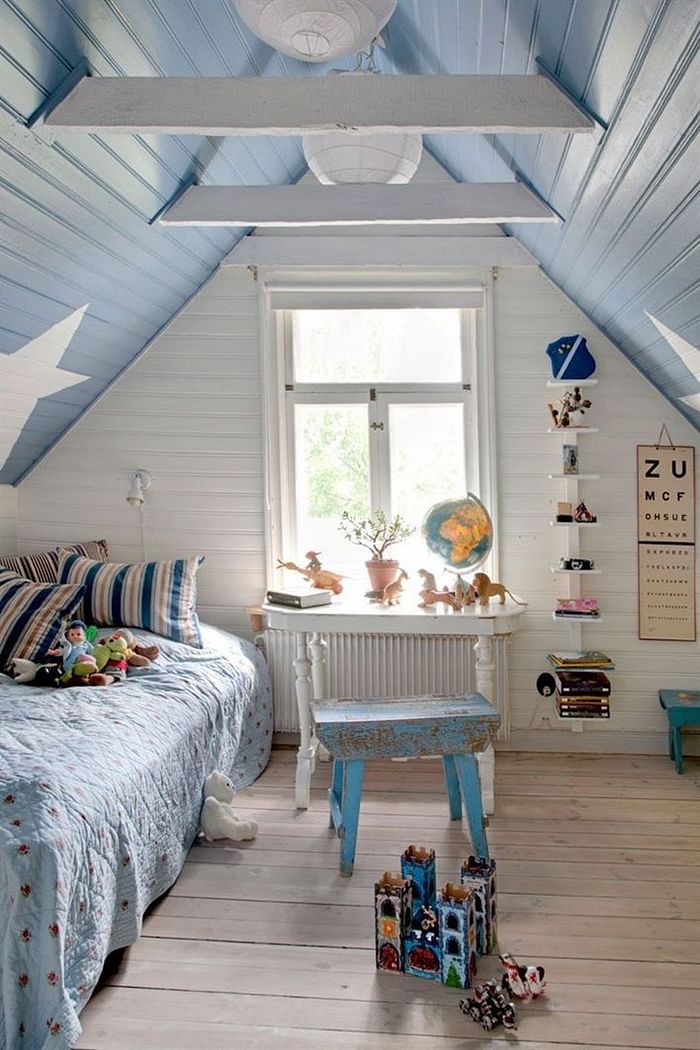 A bedroom under the roof is a children's dream. Fortunately, it is not essential to have a very large space to create a comfortable bedroom for the children in the attic. You just need to organize the space available to delimit it properly.
To transform the space under the roofs into useful space, it is particularly judicious to embed the storage or the sleeping area under the slopes. If possible, two beds can be placed so that the room can accommodate two children. Children don't need a king-size bed to be comfortable. Adapt the mattress and the box spring to their size, with a good margin.
Furniture can be used to create partitions if the size of the room allows. Play with the decor to create a cozy space for your children. A girl and a boy can share the same room under the eaves, while each having space to their liking, with their favorite colors.
Create a mezzanine to install a guest bedroom
If your basement space is relatively small, instead of creating a real floor, create a mezzanine instead. It is an excellent solution to optimize the space of your home.
The mezzanine can be used to create a small, very comfortable guest bedroom. Convertible furniture can be used to save space.
Set up a kitchen in the attic
It is quite possible to arrange a beautiful kitchen in I, L or V under the eaves, provided you deal with the roof slope, in order to optimize the space and take advantage of each square meter. Indeed, it is necessary to manage a certain number of constraints before being able to obtain a functional and pleasant space.
The kitchen is a room where you spend a lot of time, a real living room. This is why you need to have good natural lighting. This can be made possible by the large roof windows. You can also opt for windows with insulating glazing in case of the southern or western exposure.
For appliances, so important for a functional kitchen, you have to choose quiet and light models. This helps reduce vibrations that can spread throughout the floor and even the floors below if the floor is wood. So, find out about the weight of the refrigerator, dishwasher and washing machine before you start.
For the floor covering, you can choose a varnished parquet which will be easy to maintain. However, tiles or PVC slats remain the best solutions. For furniture, prefer low models. Wall units will prove impractical if the walls are less than 2.30 m high.
Set up a dining room in the attic
The dining room is a room that we want to be highly luminous. This is not a problem if it is installed in the attic. Glass partitions installed on both sides will make it possible to remedy a possible lack of light. Thus, the dining room under the eaves can easily adapt to all your decoration needs and desires.
With a canopy, you will break the border between inside and outside. It will thus create a unique, solar space with a unique design.
Arrange a walk-in closet
If you are suffering from a lack of closet space or storage in your home, it may be time to have a walk-in closet in the attic. Sloped wardrobes are currently popular with interior designers.
The installation of drawers and closet rods allows you to create storage spaces for clothes without taking up too much space in the rest of the house. You can therefore design niches, cupboards or drawers to integrate under the crawlers. This closed storage will allow you to protect your belongings from dust and prying eyes. The upper part of the storage can also be used as a shelf to take advantage of every square inch of the room.
Create a bookcase in the attic
The library is a must-have for any literature lover. Rather than dedicate significant space to it in your home, why not instead use the attic for this purpose? They represent a prime location for installing a designer bookcase and a comfortable reading corner. You can also create a small gallery if you like beautiful objects. It will be used to arrange statuettes, works of art and figurines …
Avoid overloading shelves and if possible install doors to hide certain items. Discreet lighting can be used to showcase your library and gallery.
Transform the attic into a designer living room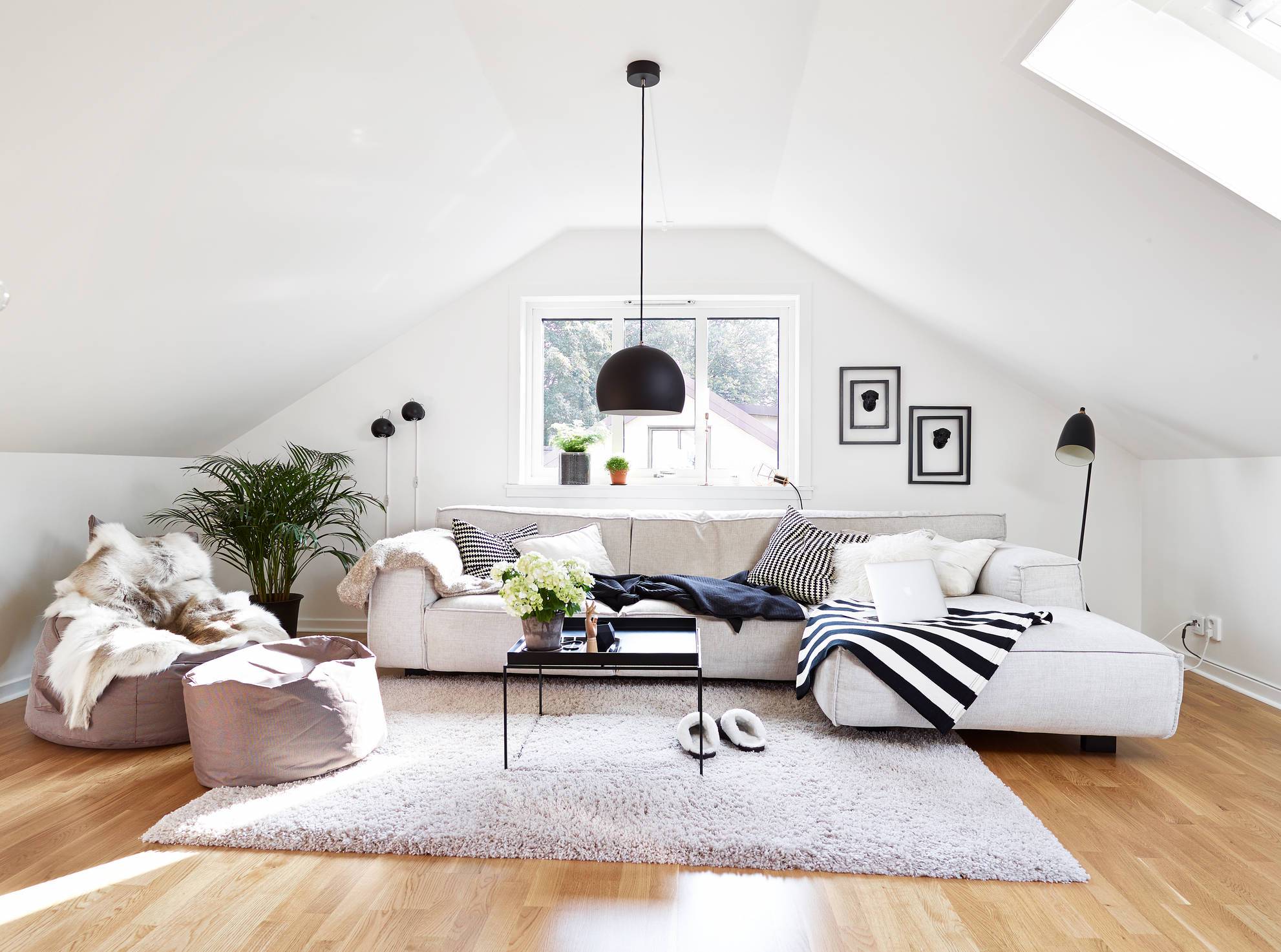 The development of the attic allows the house to be enlarged by gaining space. While we often think of a bathroom, a kitchen or an attic bedroom, some people choose instead to create a living room. There are several advantages to this.
Lounges installed under the roofs generally have an original shape, regardless of the appearance of the attic. You can thus exploit the atypical space of the attic to create a living room that stands out from the crowd, with a particular shape. It is a cozy space that will give you the feeling of a cocoon and give you an unparalleled feeling of privacy. Whatever style of decoration is used, an attic living room will always have a particularly attractive aesthetic side.
Install a bathroom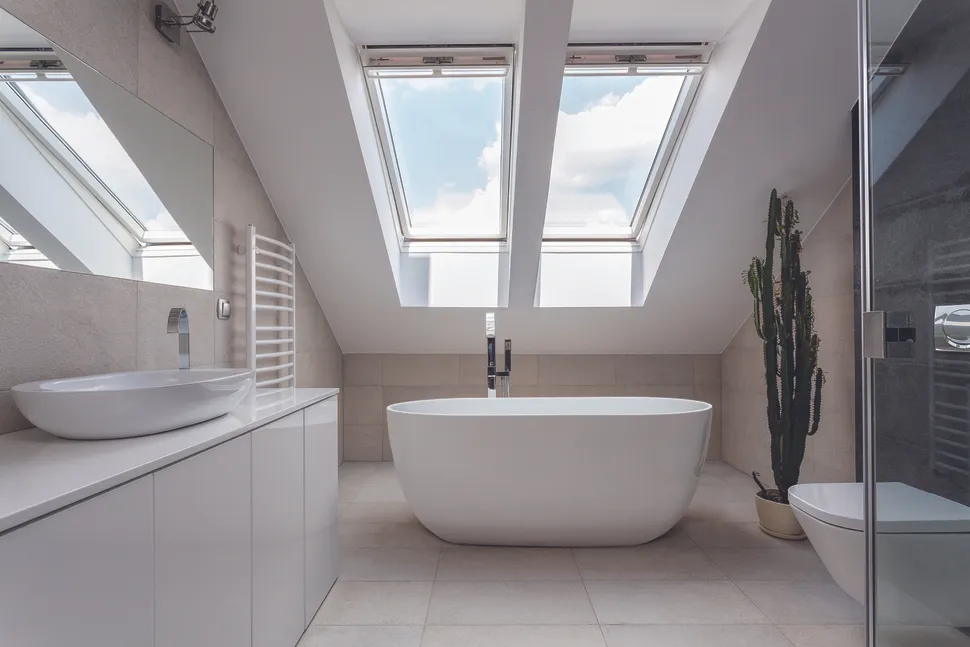 The attic is a perfect place to install a bathroom with a central bathtub, entirely dedicated to well-being. By being warm and bright, the bathroom under the roof will be a really relaxing setting that you will want to find after a tiring day.
Preferably, this bathroom should be white or in very light tones. When they dominate the room, these hues give it softness and character. You don't need to add any decorative elements.
The attic can be turned into any room if there is enough space. Whether it is a living room, a bedroom, an office or a bathroom, the success of the development depends on the development of a well-detailed plan upstream and the intervention of qualified professionals throughout the project.